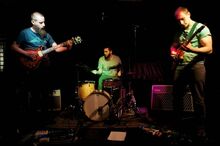 Yeahyeahabsolutelynoway! is an Adelaide based Jazz trio that formed in 2012 and was at the forefront of the establishment of the Adelaide Jazz Collective. The band employs the unusual instrumentation of two guitars and drums, notable for its lack of a bass instrument.
After regular performances at The Worldsend Hotel during 2012 and 2013 they released their debut studio album Um.. in 2014. Their second album, Ah.., was released on January 16th, 2017 through Wizard Tone Records.
Discography
Edit
Live EPs
Albums
External Links
Edit
Ad blocker interference detected!
Wikia is a free-to-use site that makes money from advertising. We have a modified experience for viewers using ad blockers

Wikia is not accessible if you've made further modifications. Remove the custom ad blocker rule(s) and the page will load as expected.