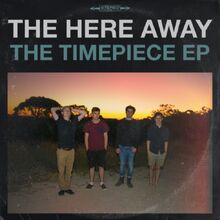 The Timepiece EP is the début release by The Here Away. It was recorded at Wizard Tone Studios on January 7th, 2016 and was released on March 11th, 2016.
Track Listing
Edit
"Intro" - 0:11
"Another Minute" - 4:12
"Soon" - 5:20
"Canada Song" - 2:30
"All The Way" - 3:41
Personnel
Edit
The Here Away
Production
Ad blocker interference detected!
Wikia is a free-to-use site that makes money from advertising. We have a modified experience for viewers using ad blockers

Wikia is not accessible if you've made further modifications. Remove the custom ad blocker rule(s) and the page will load as expected.