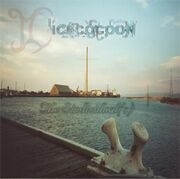 The Sindividual(s)
is the first album by
Owen Gillett
's
Icecocoon
.
Track listing
Edit
"Pensive"
"Ep.p.itome"
"gODrUSt"
"Stained Glass Windows"
"Ecstacy Girl"
"The Celluloid Souls"
"My Dream (One/Thirteen)"
"5-Grey"
"Running Away"
Additional personnel
Edit
Joel Jennison - bass (tracks 2, 3)
Jason Pearce - rhythm guitar (tracks 2, 3, 4, 9)
Daniel Webb - backing vocals (track 3), didgeridoo (track 8)
Sammie Lennon - backing vocals (track 4)
Barbara Gillett - piano (track 4)
Tori Phillips - violin (track 4)
Sebastian Tomczak - cello (track 4)
External links
Edit
Ad blocker interference detected!
Wikia is a free-to-use site that makes money from advertising. We have a modified experience for viewers using ad blockers

Wikia is not accessible if you've made further modifications. Remove the custom ad blocker rule(s) and the page will load as expected.