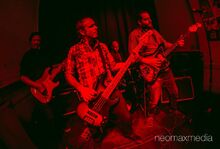 The El Caminos is a 4-piece instrumental surf band from Adelaide, featuring members from other local acts such as Murdergrin, Molloy, Patriarchal Death Machine, The Saucerman and Fell to Earth.
The El Caminos formed in 2013 after the demise of Adelaide surf group Slingshot Dragster. The band has recorded a self-titled EP and perform regularly in and around Adelaide. Notable performances include the Kustom Kulture weekend, Clare Valley Carnival of Music and the Clare Valley Gourmet Weekend.
Current
Hayden Milsteed - Guitar
Dimitri Dalagiorgos - Guitar
Eddie the Unsteady - Bass
Ryan Simm - Drums
Past
Discography
Edit
Ad blocker interference detected!
Wikia is a free-to-use site that makes money from advertising. We have a modified experience for viewers using ad blockers

Wikia is not accessible if you've made further modifications. Remove the custom ad blocker rule(s) and the page will load as expected.