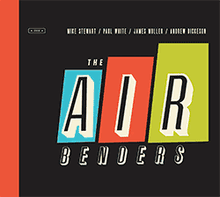 The Airbenders
released their début self-titled album in 2012.
Track Listing
Edit
"Sound for Sore Ears" - 7:28
"If the Shoe Fits" - 7:49
"Herzog" - 6:39
"Algo De Beber" - 6:26
"Weaver of Dreams" - 8:58
"Fumbles" - 5:49
"What's On Tomorrow" - 8:07
"Just the Ticket" - 6:26
"These are Soulful Days" - 7:50
Personnel
Edit
Ad blocker interference detected!
Wikia is a free-to-use site that makes money from advertising. We have a modified experience for viewers using ad blockers

Wikia is not accessible if you've made further modifications. Remove the custom ad blocker rule(s) and the page will load as expected.