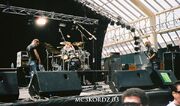 Testeagles
was a three-piece rock band formed in Adelaide, South Australia in 1994. The band was made up of the brothers, Matty (guitar/vocals) & Ady Matt (drums) alongside D (bass/vocals), who replaced their original bass player Dean.
Brief history
Edit
Testeagles first EP was recorded with an independent record label called DEF Records, but when they were discovered by Sony they launched to fame with the song "Turn That Shit Up", the first single from their debut top 40 album Non Comprehendus, which was also featured in 66th Spot on Triple J's Hottest 100 for 1999. The album also featured the tracks "Underdog" and "Like No Other".
Due to label difficulties, the Testeagles parted ways with Sony & the independent label Krell.
Testeagles were regulars at the Big Day Out festival, and last appeared in Adelaide in 2005.The last Testeagles performance was at the Hi-Fi Bar in Melbourne supporting Mammal on June 21, 2008.
Discography
Edit
Albums
Singles
"Turn That Shit Up" (1999)
"Underdog" (1999)
"Like No Other" (2000)
EPs
Testeagles Demo Tape (1994)
Chum (1996)
B-Sting (1998)
Friends (1998)
Chum (reissue) (2000)
Rarities Bonus EP (2000)
Ad blocker interference detected!
Wikia is a free-to-use site that makes money from advertising. We have a modified experience for viewers using ad blockers

Wikia is not accessible if you've made further modifications. Remove the custom ad blocker rule(s) and the page will load as expected.