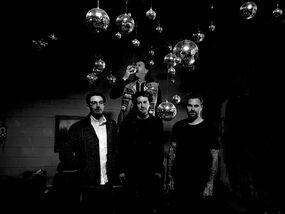 Tiersman are a four piece band from Adelaide, AU delivering driving, heavy and chaotic post-hardcore with elements of doom. Brooding, bludgeoning and consisting of members of BRONZE CHARIOT, The Rivalry, Damned Men, Sex Wizard, Night Hag, MULE, The New Mutiny, Grenadiers, Eyes Like Black Stars, This City Dynamite and Donkey Kong.
Biography
Edit
Tiersman formed in late 2016 with the lineup of Garrett R. Cooper, Scott Williams, Jono Simmons and Adam LeRay. They played their first show on February 24th, 2017 at the Hotel Metro with Godhuli and Colonised and draw influence from bands such as Pissed Jeans, Breach, Every Time I Die, Cancer Bats and Shellac.
Following select shows in 2017, Tiersman recorded their debut release, BIG TROUBLE. The live recording took place on December 2nd, 2017 in a black box theatre, at Holden Street Theatres in Adelaide. Recorded and mixed by Justin Hermes, and Mastered in January of 2018 by Dav Byrne. Tiersman released their EP, BIG TROUBLE on February 2nd, 2018 at the Hotel Metro, supported by Booby Trap and Eyes More Skull Than Eyes.
Following launching BIG TROUBLE in Adelaide and interstate shows supporting that release, in March 2018 Tiersman began a hiatus to write new material in preparation for the release of a first full-length record. During the writing process it became evident that the musical direction and drive was at sorts with the members, resulting in a lineup change. Mark Dean, ex-bassist of The Rivalry, SXWZRD, Grenadiers and Night Hag joining the ranks in July 2018.
Phase 1
Jono Simmons - Vocals
Garrett R. Cooper - Guitars
Scott Williams - Drums
Adam LeRay - Bass
Phase 2
Jono Simmons - Vocals
Garrett R. Cooper - Guitars
Scott Williams - Drums
Mark Dean - Bass
Discography
Edit
Reviews / Press
Edit
"Tiersman pull no punches. Tiersman aren't trying to please you. Tiersman are here to tell you how much of a waste of space you are. Tiersman can see that look in your eyes, they see you inspecting your shop window reflections, trying to maintain the pile of lies you call your life, and they're imploring you to let it fall apart. But, they feel all of your pain, your frustrations, your perpetually empty bank account, your idiot boss, your failure, and your fear of failure. This was immediately apparent from the moment BIG TROUBLE hit my ears. Hailing from Adelaide, Tiersman definitely have the heaviest set I've seen in a while, I know this to be the truth through the faith this five song release has instilled in me, I actually never have seen them. Within thirty seconds of pressing play, I knew that I had to change this. In terms of comparable sounds and influences, some may be tempted to lump them into the Fifty Shades of Buzz Osbourne. Indeed, the Melvins comparison works because both bands are coming at you as hard as they can, but within that sound there are also strong, refreshingly well-written tastes of hardcore punk. Hardcore is a genre I gave up on a long time ago: I felt sad that so many bands just seemed doomed to sounding like cover songs of each other, but with BIG TROUBLE, you slowly start to realise that underneath the rough as guts aggression, you get hard as frozen fudge riffs, gang vocals(!), breakdowns, lyrics that are so relatable you already want to be at a show screaming along "my brain is a toilet / I can't avoid it / only one way / to escape this headspace / drink, drink, drink ' I'm chasing that dreamless sleep". If you're a fan of good old plan and simple heavy music, you're not going to want to miss this. (4ZZZ, 2018).
"TIERSMAN from Adelaide are described as Post-Hardcore. "Big Trouble" was formally released earlier this year. It has a strong groove running through. Angry Rock n Roll. Good release. Looking forward to hearing more. (Uncle Les Talks Music, 2018)
"TIERSMAN are the nicest blokes you'll ever meet, but as soon as they hit the stage, they'll peel off your face and set it on fire" (This Is Our Sound PBAFM 89.7, 2018)
External Links
Edit
International Supports
Edit