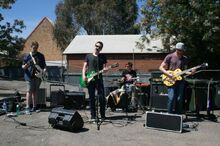 Semi-Normal
was a four piece indie-rock band from Adelaide that formed in late 2003 and was active until mid 2016.
Biography
Edit
Semi-Normal was a four piece indie rock band from Adelaide, South Australia. Their sound was reminiscent of British rock from the early-mid 90s, and placed a large emphasis on guitars and vocals. So Much for Sanity is their second independent release, being the follow up to their 2010 album, Half Open Minds.
Current Members
Ben Downing - vocals, guitar
Past Members
Mandy Pearson - bass
Dave Smith - drums
Chris Johnson - guitar
Discography
Edit
Singles
Albums
Half-Open Minds - (2009)
So Much For Sanity - (2012)
External Links
Edit
Ad blocker interference detected!
Wikia is a free-to-use site that makes money from advertising. We have a modified experience for viewers using ad blockers

Wikia is not accessible if you've made further modifications. Remove the custom ad blocker rule(s) and the page will load as expected.