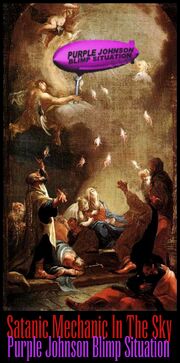 Satanic Mechanic in the Sky, is the début album by South Australian art group Purple Johnson Blimp Situation, self released on the April 26, 2006. It is the only album in which the band member's faces are revealed, due to not yet choosing to wear masks. 
Album information
Edit
A year since the break up of The Cheese Dirigible in 2004, Norwood Grimes and Peter Because began to work together again in late 2005. Using only what was made available to them. They eventually finished writing and released Satanic Mechanic in the Sky in 2006. The band likes to call this album the "morons with two keyboards" album, because it was mostly recorded with a Casio CT-700 and a Yamaha PSR73.
Track listing
Edit
"Purple Johnson Blimp Situation"
"Satanic Mechanic in the Sky"
"Song of Spring"
"As Serbia Sweats"
"Orient"
"Dance of the Dirigibles"
"Elevation"
"Gregory the Cockroach"
"Hitler & the Fishing Net"
"Intermission"
"The Corpse Vanishes"
"Weightlessness"
"Post Atom Heart Grandmother"
"Entering the Storm"
"The Eye"
"Gas Bag"
"Bx3 (Papa's Got a Brand New Bag)"
"Hydrogen"
"Helium"
Personnel
Edit
Purple Johnson Blimp Situation
Captain Norwood Grimes - Stuff
Captain Peter Because - Stuff
Production
Recorded and produced by PJBS at Dave's.
All music by Purple Johnson Blimp Situation.
There was possibly an appearance by Harleyquin Z. Jones, but this can neither be confirmed nor denied.
Ad blocker interference detected!
Wikia is a free-to-use site that makes money from advertising. We have a modified experience for viewers using ad blockers

Wikia is not accessible if you've made further modifications. Remove the custom ad blocker rule(s) and the page will load as expected.