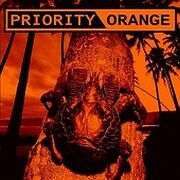 Priority Orange
(self-titled, also known as
EP
) is the debut album from heavy alternative rock band
Priority Orange
, and was released in September 2009. It is the first in a planned trilogy, designed to separate the various songwriting styles the band will explore, and shows a distinct early-Nineties grunge influence.
The EP is essentially a solo album, with all songs written and performed by Larry Ash. It was mastered by Owen Gillett.
During three weeks in November and December 2009, it was included in Three D Radio's "Top 20+1" albums chart.
Track listing
Edit
"Left To My Own" – 4:32
"Anyway" – 4:28
"More" – 3:42
"Pigmeat" – 4:15
External links
Edit
Ad blocker interference detected!
Wikia is a free-to-use site that makes money from advertising. We have a modified experience for viewers using ad blockers

Wikia is not accessible if you've made further modifications. Remove the custom ad blocker rule(s) and the page will load as expected.