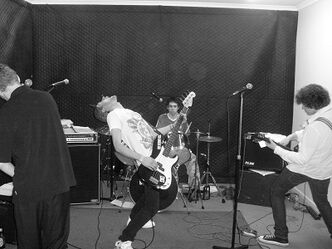 Postbox Dynasty
was a "Punk/Alternative Rock" band from Adelaide, South Australia.
Although having mostly begun in 2005, they did not become fully active until 2009, until breaking up in October 2012.
Peter Hollow and Joe met at Underdale High School in 2005 of which they both attended. They played as a duo in the school music room during lunch times.
They finally decided to officially start a band in late 2008.A few months later, Joe received a message from Phil Hunter who had seen an online ad searching for a singer. They had accepted Phil into the band in August 2009, this saw the trio now writing songs together, yet without a bassist.
Phils house-mate Lucas Griffin (who had previously attended some of the bands practices) was playing bass while the band was talking during a party some time in 2009. Phil had taught Lucas bass previously but had claimed he was not ready to play in a band, as Lucas did not play bass often. Phil, Peter and Joe joked about him being their bassist, and despite Lucas' (at the time) lack of bass knowledge, Joe yelled out to Lucas "That's it, you're in the band!", Lucas accepted with no objections from the rest of the members.
Gigs and Breakup
Edit
Postbox Dynasty, soon after becoming a full band, became regulars at The Land of Promise, The Squatters Arms and The Crown and Anchor after having played several gigs there along-side countless other local Adelaide bands.
On the 3rd of February 2011, Jarrod Minnicon, friend of Phil and Lucas, became rhythm guitarist in the band, taking over for Phils secondary guitar spot. After only one gig, Jarrod left due to disinterest.
In May 2011, Now having joined industrial rock band Across the Maelstrom, Joe departed from Postbox Dynasty. They were quickly back in action with the soon joining of Michael Konieczny.
In October 2012, Peter left the band, and they decided to cease any further continuation with the name 'Postbox Dynasty'.
Phil and Lucas went on to form the punk/rock band 'Never Stand Alone' in late 2014. With Lucas now singing, and Phil playing lead guitar.
Members
Phil Hunter - Lead vocals, rhythm guitar
Peter Hollow - Lead guitar
Lucas Griffin - Bass, vocals
Michael Konieczny - Drums
Past members
Jarrod Minniecon - Rhythm guitar
External links
Edit