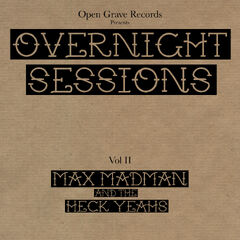 Overnight Sessions: Vol. II is the second EP in Open Grave Records' series of 'Overnight Sessions' and the debut studio EP by Max Madman & The Heck Yeahs. It was recorded over a period of 24 hours in September, 2013 and released on September 28, 2013 as both a physical CD and a digital download through Open Grave Records.
Track Listing
Edit
All music and lyrics written by Max Tulysewski.
"Pizza Boy" - 4:31
"Folded Love Letter" - 3:32
"Let Us Be Free" - 2:10
"Morning Glory" - 4:39
Personnel
Edit
Max Madman & The Heck Yeahs
Max Tulysewski - Vocals, Ukulele, Synthesizer, Production
Tim Moors - Piano, Organ, Synthesizer
William Hoskin - Bass
Dylan Oke - Drums
Production
Lachy Bruce - Production, Engineering, Mixing, Artwork
Ad blocker interference detected!
Wikia is a free-to-use site that makes money from advertising. We have a modified experience for viewers using ad blockers

Wikia is not accessible if you've made further modifications. Remove the custom ad blocker rule(s) and the page will load as expected.