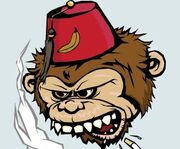 Monkeybox
is a four piece, light, acoustic, rock band. After cooling their heels in a dead end cover band for 10 years, founding members Bloke and Animal (alternatively known as Brett and Brett) through off the shackles of cover band cash to play their own music. They have been playing shows on and off since 2008 including a Fringe show in 2009 featuring their own music and other, Australian classics.
Brett (Bloke) - guitar/singer/song writer
Brett (Animal) - drums
Grant - lead guitar
Matt - Bass
Previous Members
Edit
Formed in 2007, played shows through 2008 and unofficially released an EP. Changed bass players in 2008. Played a series of shows for the Adelaide Fringe in 2009 at the Cavern Club. Went to ground for some time though set to re-emerge with a new release.
Discography
Edit
Accidental Genius (Demo) (2008)
Between Monkeys and Jupiter (EP) (2012)
Influences
Edit
Powderfinger, Live, Jeff Buckley, Nickleback and own life experiences.
External Links
Edit
Ad blocker interference detected!
Wikia is a free-to-use site that makes money from advertising. We have a modified experience for viewers using ad blockers

Wikia is not accessible if you've made further modifications. Remove the custom ad blocker rule(s) and the page will load as expected.