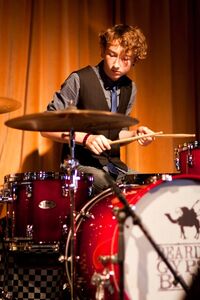 Max Tulysewski (born August 26, 1994) is a multi-instrumentalist, producer and composer from Adelaide, SA.
Biography
Edit
Tulysewski has played drums with a number of notable bands in the Adelaide music scene including the Bearded Gypsy Band, Donnarumma, The Heggarties, Big Daddy's Discotheque, The Cortex Shift, Live It Up, Aura Form, The Here Away, Diamond Dolls, The Thieves, Super Team, Mammoth Logic, The Blue Katz and is a snare drummer for the Heathfield Renegades and The Bigfoot Collective.
In 2012, he formed Max Madman & The Heck Yeahs and began composing his own original music. The bands début EP, Live at the Ed Castle, was released through Open Grave Records in 2013. Tulysewski then began a second song-writing project with Superdose Gangway in 2016.
Tulysewski currently endorses Metro Drum Co. and is completing his Bachelor of Music at the Elder Conservatorium of Music with a major in Jazz Performance on the drums.
Discography
Edit
With Tom Kneebone
A Kind of Strange - (2009)
With Bearded Gypsy Band
With Aura Form
Illustrious Impact [Part 1] - (2011)
Vesica Pisces - (2016)
With Max Madman & The Heck Yeahs
With The Heggarties
Incidentally - (2014)
The Heggarties - (2017)
With Highgarden
With The Here Away
With The Cortex Shift
With Superdose Gangway
With Donnarumma
External Links
Edit
Ad blocker interference detected!
Wikia is a free-to-use site that makes money from advertising. We have a modified experience for viewers using ad blockers

Wikia is not accessible if you've made further modifications. Remove the custom ad blocker rule(s) and the page will load as expected.