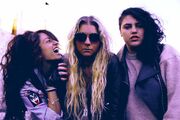 Lipsmack
are a "rock/grunge/alternative girl band" from Adelaide, South Australia.
The band performed at their first gig in September 2009 and have since continued to perform extensively. Lipsmack have performed at venues throughout Adelaide including The Gov, Fowlers Live, Jive, Higher Ground and Uni Bar. They've travelled interstate individually and as part of the "Scorcher Fest" Music festival as a feature band, and performed in Melbourne's "Espy," Brisbane's "Jubillee," and Sydney's "Annandale Hotel".
Lipsmack were also selected to feature on Network 10's program Toasted TV filmed in Movie World Queensland. Having won the Burnside Battle of the Bands in 2010 and the first Adelaide round of the Global Battle of the Bands 2011, Lipsmack have performed Live to air on Radio 3D and Radio Adelaide. They've also supported the newly Signed Sony band Syndicate at two shows in Adelaide and one in Melbourne.
Sundy Mantis - guitar, vocals
Shivon - bass
Betty Kontoleon - drums, vocals
External Links
Edit
Ad blocker interference detected!
Wikia is a free-to-use site that makes money from advertising. We have a modified experience for viewers using ad blockers

Wikia is not accessible if you've made further modifications. Remove the custom ad blocker rule(s) and the page will load as expected.