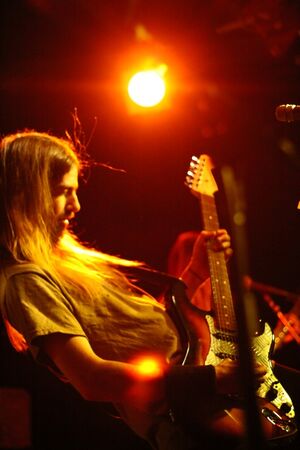 Larry Ash
(born 1983) plays guitar and sings for
Priority Orange
. In 2008 he was temporarily the second guitarist in
Mammoth
alongside
Josh Barohn
(ex-Suffocation), and was a member of
Blood Red Renaissance
from 2009-2012.
He also works as an audio engineer, and has recorded studio projects for bands including Abeyant, Manifesto, Blood Of Abaddon, Convict Anatomy, and live recordings of Emily Smart, SE BON KI RA, Cam Blokland and The Spatchcocks among others.
As guitarist except where noted:
Equipment
Edit
Fender Stratocaster guitar
Hagstrom Swede guitar
G&L ASAT guitar
Warwick Streamer bass
Peavey 6505 amplifier
BOSS, Digitech, Vox, Korg, MXR/Dunlop, Ibanez, TC Electronic pedals
He is sometimes seen wearing a guitar strap which reads "A Delectable Medley Of Fromagian Splendor".
External links
Edit
Ad blocker interference detected!
Wikia is a free-to-use site that makes money from advertising. We have a modified experience for viewers using ad blockers

Wikia is not accessible if you've made further modifications. Remove the custom ad blocker rule(s) and the page will load as expected.