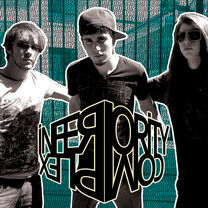 Lame By 3 is the first self-released CD from Adelaide band Inferiority Complex. It was recorded in Apocryphus Studios in October to December of 2011, and released on December 20th.
Track listing
Edit
"Lame By 3" - 2:51
"Clara" - 2:53
"Orchid" - 4:18
"Mindless Days" - 4:26
"Pitchfork" - 3:47
Recorded at Apocryphus Studios.
Produced by Inferiority Complex.
Mixed/Engineered by Z McFly.
Mastered by Z McFly and M Pearce at GHS.
Sleeve art/photography by Z McFly and K Garner.
Ad blocker interference detected!
Wikia is a free-to-use site that makes money from advertising. We have a modified experience for viewers using ad blockers

Wikia is not accessible if you've made further modifications. Remove the custom ad blocker rule(s) and the page will load as expected.