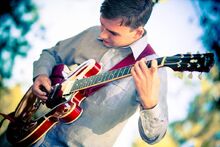 Kyle James Opie
(born July 30, 1993) is a musician from Adelaide, South Australia.
Biography
Edit
Kyle Opie is the leader of the jazz-rock group The Cortex Shift and is a member of several other bands that are currently active in Adelaide including Misfits of Sythia and Something To Rescue.
Opie was an initial member in the establishment of the Adelaide Jazz Collective in 2012 and was also a member of the review panel for MusicSA from April 2013 until October 2015 when they ceased the review process. In February 2016 he began to write reviews for BSide magazine. As a volunteer with the Adelaide Hills Youth Advisory Committee, he is also a frequent participant and mentor of the Woodside Jams.
Kyle Opie was awarded a Bachelor of Music from the Elder Conservatorium, University of Adelaide with a major in musicology in 2017.
He has also featured on such albums as Eggcorns and Mondegreens and Twenty-Six Songs in Twenty Sixteen.
Discography
Edit
With The Cortex Shift
With Misfits of Sythia
With The Here Away
With Max Madman & The Heck Yeahs
External Links
Edit
Ad blocker interference detected!
Wikia is a free-to-use site that makes money from advertising. We have a modified experience for viewers using ad blockers

Wikia is not accessible if you've made further modifications. Remove the custom ad blocker rule(s) and the page will load as expected.