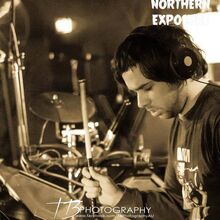 Joe 'Skold' is a percussionist and solo artist. Most notably, drummer for Izera, percussionist for the industrial rock band Across The Maelstrom, and ex drummer for punk/alternative rock band Postbox Dynasty.
He began teaching himself drums in 2005 and started the band Postbox Dynasty with his friend and guitarist, Peter Hollow. Joe left the band in 2011.
Joe also makes solo experimental electronic tracks under the name Razdraz, and as of February 2015, has taken on the drum position in the synth rock band Izera.
Other works
Never Stand Alone (2015) filled in on drums for some live shows
Equipment
Edit
With Izera
Custom electric drums, mostly consisting of 80's Roland pads
Yamaha TMX drum module
Korg Mini Kaoss Pad2
Music videos
Edit
Izera - Strange Games (2016)
Influences
Edit
Joe cites influences from a wide range of bands and artists of a wide range of genres
Sascha Konietzko
Julian Hamilton
Jeff Scheel
Tre Cool
Ben Kowalewicz
Tim Skold
Lady Gaga
Brendon Urie
Sia
Chris Fehn
MC Raaka Pee
Joey Jordison
Ad blocker interference detected!
Wikia is a free-to-use site that makes money from advertising. We have a modified experience for viewers using ad blockers

Wikia is not accessible if you've made further modifications. Remove the custom ad blocker rule(s) and the page will load as expected.