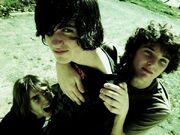 Inferiority Complex
are a Northern suburbs three-piece heavy rock band, formed in 2009. Their sound draws influence from everywhere across the pop, punk, and metal genres, both past and present.
Inferiority Complex formed in 2009 as a progression from guitarist/vocalist Zebedee Q. McFly's previous band Paranoia. Their original intention was to play in a raw "garage" style, influenced by artists such as Nirvana, Nine Black Alps and Grinspoon. Following a series of not-entirely-successful endeavours and lineups, Inferiority Complex folded in early 2011 and fell into indefinite hiatus.
They however returned in late 2011 with a new lineup and entirely revised sound, as demonstrated by their "Lame By 3" EP.
Current members (2011-present)
Previous members
Sam White - Guitar (2010-2011)
Tom Brook - Bass (2009-2010)
Marty Derer - Guitar, Vocals (2009)
Discography
Edit
Lame By 3 - (2011)
Ego Death - (2012)
Afterglow - (2013)
External Links
Edit
Ad blocker interference detected!
Wikia is a free-to-use site that makes money from advertising. We have a modified experience for viewers using ad blockers

Wikia is not accessible if you've made further modifications. Remove the custom ad blocker rule(s) and the page will load as expected.