Icecocoon
began in 1999 with
Owen Gillett
recording his solo material as four-track demos. These early works eventually amounted to the debut album
The Sindividual(s)
, released in 2005. It took "a very long time to make," with Owen playing almost everything and engineering all the way.
The Sindividual(s)
had a complex stage show with projections, lots of keyboards, computers and performers (6 members including the very important "Front of house"). After 7 months of playing once a month in Adelaide, Owen decided to take a break and dissolved the live band. He is now in the middle of making two more Icecocoon albums; one inspired more by heavier music and the other more eclectic and devoid of guitar.
A second album, Deepest Crystal Black, was released in November 2013. The band is currently rehearsing for live shows, while the next albums are being recorded.
Current members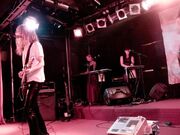 Former members
Discography
Edit
External links
Edit
Ad blocker interference detected!
Wikia is a free-to-use site that makes money from advertising. We have a modified experience for viewers using ad blockers

Wikia is not accessible if you've made further modifications. Remove the custom ad blocker rule(s) and the page will load as expected.