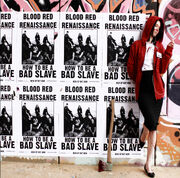 How To Be A Bad Slave
is an EP by Adelaide band
Blood Red Renaissance
. It is the only EP they have released so far to include non-LP songs, four in total, plus two live tracks recorded at The Cavern Club. It was released on September 14, 2012.
Track listing
"I'm A Gun" – 03:23
"Mirrormasque" – 04:16
"Ghosts Of Endeavour" – 06:12
"Bad Slave" – 06:40
"The Libertine (live)" – 03:57
"Suture Self (live)" – 04:57
Personnel
Edit
Blood Red Renaissance
Matthew R. Davis - Vocals, Bass, Piano, Keyboards, Samples
Tom Kilsby - Drums, Backing Vocals
Owen Gillett - Keyboards, Vocals
Larry Ash - Electric & Acoustic guitars, Backing vocals
Pete Sears - Guitars, Backing vocals
Production
Owen Gillett - Engineer, Mixing, Mastering
Larry Ash - Engineer
Lisa Lane-Collins - Engineer
Matthew R. Davis - Album Art
Ad blocker interference detected!
Wikia is a free-to-use site that makes money from advertising. We have a modified experience for viewers using ad blockers

Wikia is not accessible if you've made further modifications. Remove the custom ad blocker rule(s) and the page will load as expected.