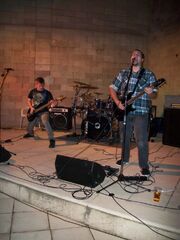 Forget All This
(often just called "FAT") are a three-piece powerhouse which combine heavy melodic alternative metal with socio-political-life lyrics and a blend of agressive and uplifting vocals. At shows, FAT conjure crushing, dynamic energetic live sets. Since forming in 2002, FAT continue to create the music they love making, and God help those who get in the way.
Ross Grasso - drums
Tom Hofmeyer - vocals & guitars
Tom Kiess - bass & backing vocals
Influences
Edit
The band describe their influences as "diverse as hip hop all the way to progressive metal to extreme metal".
External links
Edit
Ad blocker interference detected!
Wikia is a free-to-use site that makes money from advertising. We have a modified experience for viewers using ad blockers

Wikia is not accessible if you've made further modifications. Remove the custom ad blocker rule(s) and the page will load as expected.