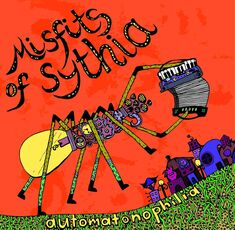 Automatonophilia
is a 2014 studio EP by
Misfits of Sythia
. It was the first release by the band and at the time three of the four members were still high school students. It was recorded in January 2014 at Banjo Frog Studio in Lenswood, South Australia. The EP was subsequently released on March 19th 2014.
Track Listing
Edit
"The Ballad of One-Eyed Stan" - 1:00
"Meth Lab for Cutie" - 5:49    
"The Tungsten Hook" - 4:22  
"Revenge of the Sythia" - 2:38
"The Animals Broke Loose" - 7:52
Personnel
Edit
Misfits of Sythia
Sam Morris - guitar
Patrick Reed - saxophone, vocals
Kyle Opie - bass
Stuart Mann - drums
Production
Gavin O'Loghlen - engineer, mixing, mastering
Zinia King - album artwork
Ad blocker interference detected!
Wikia is a free-to-use site that makes money from advertising. We have a modified experience for viewers using ad blockers

Wikia is not accessible if you've made further modifications. Remove the custom ad blocker rule(s) and the page will load as expected.