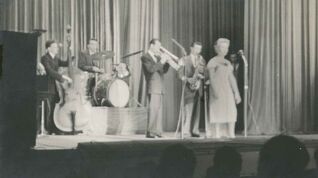 The
Adelaide Jazz Quintet
was a popular Jazz ensemble active in Adelaide the late 1950s.
Biography
Edit
Established by Bryce Rohde, Jake Brokensha, Errol Buddle, Alf Holyoak and Maurice Le Doueff, they patterned their style on along the lines adopted by Dave Brubeck, Gerry Mulligan and other modernists of the time.
The band reached the stage of technical virtuosity, balanced by a happy, healthy beat equally suitable for dancing and relaxed listening. Alongside The Penny Rockets and the Ian Drinkwater Octet, they appeared in Kym Bonythons "Tempo of the Times", the Jazz and Rock'n'Roll spectacular in October of 1957.
Charlie Foster - Trombone, Trumpet
Diane Chamberlain - Vocals
Ad blocker interference detected!
Wikia is a free-to-use site that makes money from advertising. We have a modified experience for viewers using ad blockers

Wikia is not accessible if you've made further modifications. Remove the custom ad blocker rule(s) and the page will load as expected.