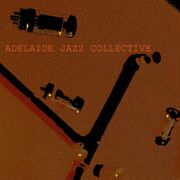 The Adelaide Jazz Collective is an all inclusive grass-roots community group.
Description
Edit
The primary purpose of the Adelaide Jazz Collective is to create a supportive environment and networks between original jazz artists and bands through regular performances and a permanent presence in the Adelaide music scene.
The current vision for the collective is to create a new kind of community organisation that work alongside but in a completely different capacity to other bodies (such as Creative Original Music Adelaide and JazzSA) to bolster the live music scene in Adelaide, providing more opportunities for local musicians to perform original music and for audiences to hear it.
Bands of the collective
Edit
Tom Cole Trio
External Links
Edit
Ad blocker interference detected!
Wikia is a free-to-use site that makes money from advertising. We have a modified experience for viewers using ad blockers

Wikia is not accessible if you've made further modifications. Remove the custom ad blocker rule(s) and the page will load as expected.