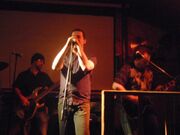 4 Kings Loud
is a four piece band from Adelaide that was founded in 2006. 4 Kings Loud combine the sound and groove of Soundgarden and Audioslave with a hint of Alice in Chains and Tool.
The band have toured all regional parts of SA and performed at the "McLeods Daughter's" wrap party with guest vocals by Abby Tucker. They also held regular performances at the Alma, owned by Mark Ricciuto and Simon Goodwin, and have performed at such venues as the Adelaide Town Hall, Adelaide Oval, Adelaide Entertainment Centre and Carrick Hill.
Rob Del Col - vocals
Mat Way - guitar
James Corbett - bass
Mat Enright - drums
Discography
Edit
Ad blocker interference detected!
Wikia is a free-to-use site that makes money from advertising. We have a modified experience for viewers using ad blockers

Wikia is not accessible if you've made further modifications. Remove the custom ad blocker rule(s) and the page will load as expected.