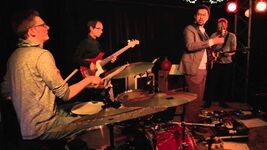 1.1 Immermann is a band from Adelaide, South Australia led by drummer Jarrad Payne.
Biography
Edit
Since their debut self titled release in 2009, 1.1 Immermann has produced a total of six releases. These albums include further original work, cover albums and a selection of music composed to accompany silent film with The General (2014) and Waxworks (2016).
Current Members
Past/Occasional Members
Discography
Edit
External Links
Edit
Ad blocker interference detected!
Wikia is a free-to-use site that makes money from advertising. We have a modified experience for viewers using ad blockers

Wikia is not accessible if you've made further modifications. Remove the custom ad blocker rule(s) and the page will load as expected.